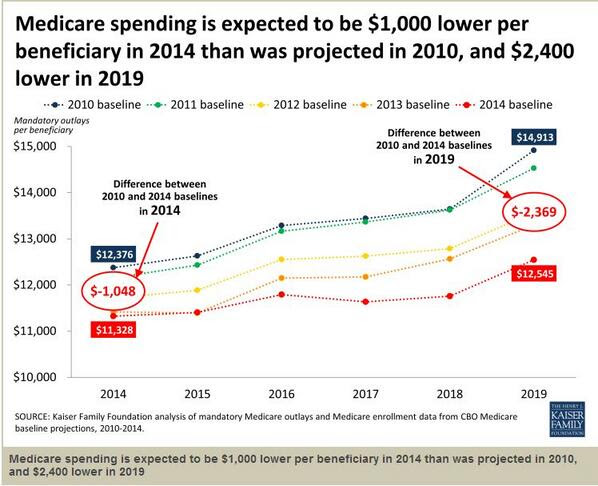 Sarah Kliff is impressed by the above chart:
This simple, four-line chart is amazing news for the federal budget. It shows that the government is expected to spend about $50 billion less paying for the Medicare program this year than it had expected to just four years ago. What this chart shows is how much the Congressional Budget Office expects we'll need to pay for each and every Medicare beneficiary. And over the past four years, the forecasting agency has consistently downgraded the price of covering one senior's health care costs.

Saving $1,000 per patient adds up quickly in a program that covers about 50 million people. More precisely, it adds up to about $50 billion in savings this year. The reduction in expected costs grows to $2,369 in 2019. With an expected 60 million seniors enrolled in Medicare that year, it would work out to more than $120 billion shaved off the total cost of the program.
Tricia Neuman and Juliette Cubanskigo go into more detail on the factors at play:
In addition to scheduled reductions in Medicare's more formulaic payment rates, providers may be tightening their belts and looking to deliver care more efficiently in response to financial incentives included in the ACA, and it is possible that these changes are having a bigger effect than expected. For example, CMS recently reported that hospital readmission rates dropped by 130,000 between January 2012 and August 2013. It is also possible that hospitals and other providers are using data and other analytic tools more successfully to track utilization and spending and to reduce excess costs. Another more straightforward factor is that several expensive and popular brand-name drugs have gone off patent in recent years, which has helped to keep Medicare drug spending in check.

Whatever the causes may be, the slowdown in spending is good news for Medicare, the federal budget and for beneficiaries—at least for now, and as long as it does not adversely affect access to or quality of care.